Fabulous crochet beach bag
Beautiful handmade crochet ibiza beach bag / shopper.
Handy cotton beach bag
, crocheted by hand with zipper.
Design
: Esther Krak
Weight
: 5 kg
Dimensions
: 40 x 40 cm
About The Brand:

Bohemian Fair Trade is a sustainable brand for bohemian ethnic style bags, hats and jewelry.
Trendy quality products, designed for the worldly woman with a free spirit.
Fairtrade certified since 2005 and handmade by the Maya people of Guatemala using natural and recycled materials.
In the Netherlands and the rest of Europe the Bohemian Fair Trade collection is sold through fashion stores, world shops, WAAR shops and of course this site.
The organization behind the Bohemian Fair Trade brand is called Simbolica.
A social enterprise with primarily a social mission:
"Supplying honest, stylish, quality products that offer the makers (and their families) in Mexico and Guatemala a future with a living wage and development opportunities."
We are financially self-sufficient and not dependent on gifts or subsidies; profit is allowed, but the financial goals serve the mission: increasing the social impact.
With a small team of enthusiastic and driven people, we enjoy working from The Hague on the designs, marketing and sales. In constant contact with our producers in Guatemala. Contact with them is direct, no intermediaries. We find that pleasant, fast and verifiable. We are regularly in Guatemala to work on product development and every prosimbolica project teacher has a development plan that is being worked on. And 2 people live permanently in Guatemala to arrange logistics there, among other things.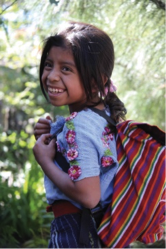 Give Back
10% of the proceeds will go to the school projects of the Simbolica Projects Foundation (
www.simbolicaprojecten.net
), so that hundreds of Maya children can go back to school every year. You a beautiful bag, she a filled school bag!
FAIR TRADE
Bohemian Fair Trade is a brand of Simbolica, a fair trade certified organization. The WFTO Product Label demonstrates that the entire supply chain is regularly checked to meet WFTO Fair Trade Standards through independent local audits. Every purchase of these products supports small producers in developing countries and their environs. Important fair trade criteria are: no child labor (going to school!), living wage, pre-financing, sustainable waste processing and long-term producer relationships.